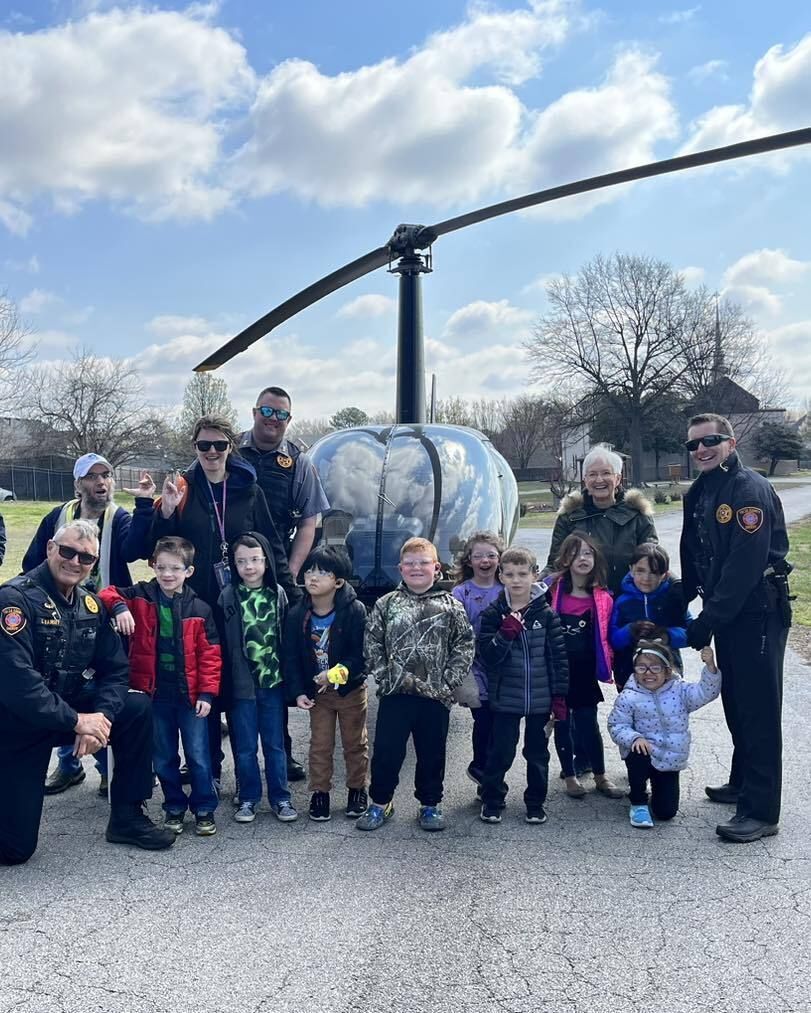 Lacy Shoemaker, one of our incredible Speech and Language Pathologists, organized a Community Helper month in March! She brought in special guests throughout the month to talk to our students about their careers. Our students got the opportunity to meet some AMAZING adults at the career fair and throughout the month! At the career fair, they talked to a minister from the Park Church of Christ Deaf ministry, a beekeeper, a Deaf
carpenter, and police officers. They even got to help build a birdhouse AND love on a K-9 officer!
We had the opportunity to hear from the Tulsa County Sheriff's Office (TCSO) as they talked to our kids about their job protecting the community! TSCO was kind enough to FLY THEIR HELICOPTER out to see our students.
The children were blown away by getting to watch the helicopter land and take off right in front of them!
The Broken Arrow Fire Department came out to visit our students! Fireman Kelsey Brewer came along to surprise our students – he knows American Sign Language (ASL)!
It was a great experience for our students to see a fireman using ASL. Fireman Brewer helped to teach them that firemen are not scary and that they are here to help us! They got to see the inside of an ambulance and a fire truck, and learn about what a fireman does.
The video of Fireman Brewer talking to Happy Hands students went viral on Facebook, with 662K views worldwide! Thanks to the video's viral status, Fox23 ran a story on our Community Helper month, which you can watch by following the link provided here.
The students had SO much fun meeting Karla Leland, #51, and getting to learn all about her job driving a racecar! The racecar was LOUD and the kids loved getting to feel the vibrations the powerful engine made and try on her helmet.
Barnhart Excavating visited to teach the students about construction. They showed them how the excavator's arm and bucket can pick things up and dump them out! The kids had fun with hands-on exploration - they all got a turn sitting in the excavator and pretending to be construction workers!
Jeremy Martin, with The Tinker's Shop, taught us all about his job as a blacksmith! The students learned all about what kind of tools a blacksmith uses and how they use fire to make incredible things out of metal!
We are very thankful to have so many community helpers. The students got to learn about a diverse range of careers! Thank you to each person and organization who helped make Community Helper month special for our students!